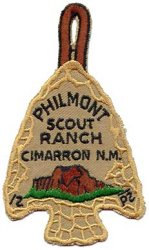 Join the Boy Scouts of America, Greater Niagara Frontier Council for a trip to Scouting's paradise, Philmont Scout Ranch in July 2022. Space is limited.
Philmont's signature program is the backcountry trek. Each trek expedition provides opportunities for participants to:
Explore the high country of the Sangre de Cristo Mountains in northeastern New Mexico
Experience the thrill of climbing mountains over two miles high
Participate in a wide array of fun activities that teach Scouting skills – Archeology, backpacking, camping, climbing, fly fishing, forestry, horsemanship, panning for gold, burro racing, shooting, Indian lore, and much more
Develop leadership, group dynamics, wilderness problems solving, and outdoor skills
Crews hike Philmont's mountains, spending nights at various backcountry camps. At staffed camps, crews participate in a variety of programs presented by Philmont backcountry staff. Programs include horseback riding, burro packing, gold panning, rock climbing, rappelling, shooting spar pole climbing and interpretive programs such as home steading and a mountain man rendezvous.
Scouts and Scouters must be in top physical condition.
NEW**Philmont 2022 Online Application: Click here
Philmont 2022 Meeting Dates: Click here
For more Information Contact:
Jim Heinrich: (716) 866-1942 jeheinrich@aol.com
Dick Hanaburgh: (716) 512-6219 dick.hanaburgh@scouting.org
or visit the official Philmont web page