High Adventure Canoeing Programs
---
WNY Waterways Day Trips!!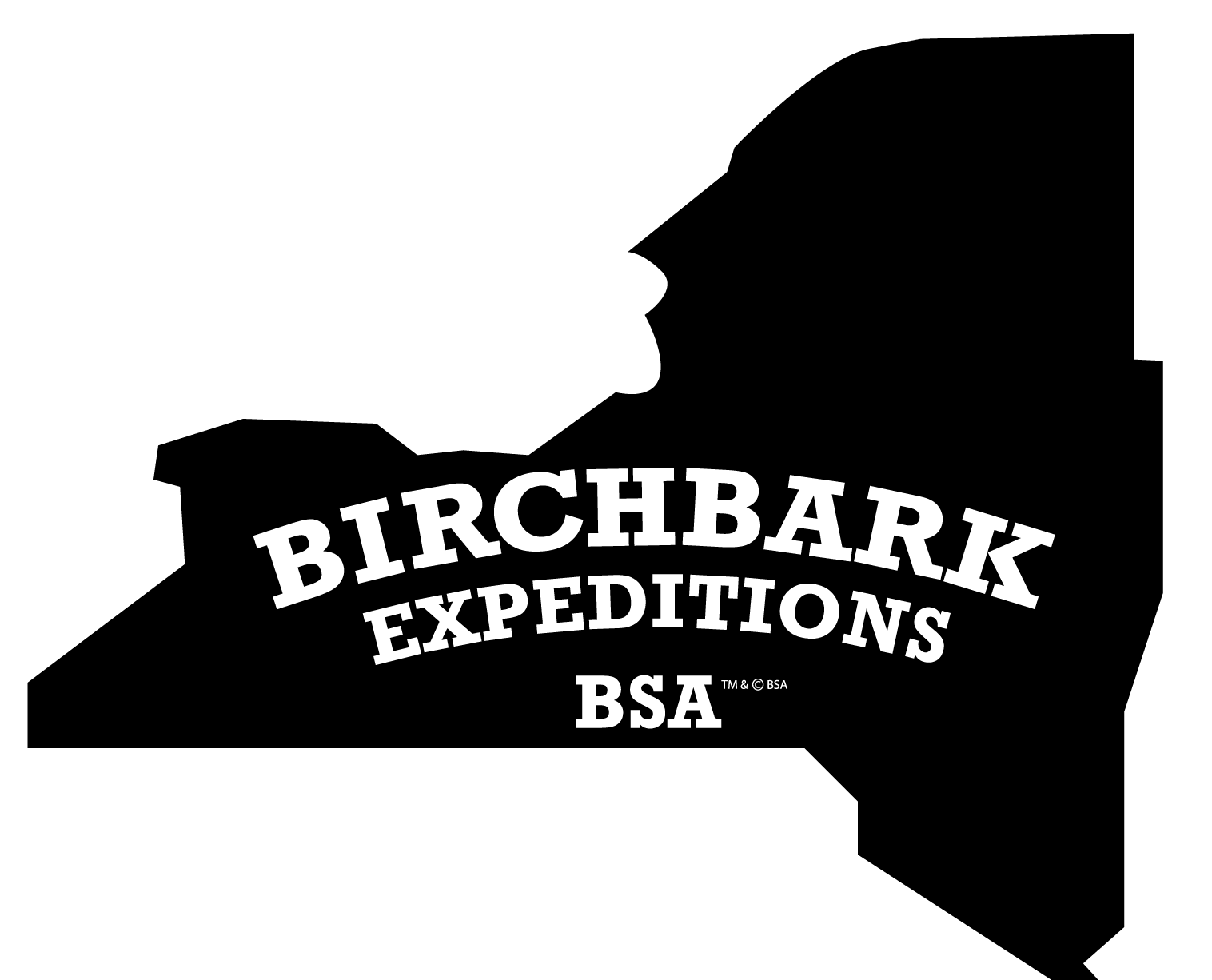 The NEW Birchbark Expeditions WNY Waterways program provides units across the region an opportunity to experience canoeing and build paddling skills, in a safe and supervised environment.
With the help from trained volunteer guides from the GNFC, the program assists units in planning and executing a short-term canoe tripping experience on any one of our many local waterways. For a nominal per-person charge, the program provides canoes, PFDs, paddles and other required safety equipment along with a fully-trained guide for the duration of their expedition.
Learn more on the WNY Waterways Program pages
---
Adirondack 7-Day Adventure (2021)
Pricing | Registration | Routes | Resources |Staff | FAQ | Sponsors
With the uncertainty on the reopening of the Canadian border, for our 2021 season, we are relocating our program to the beautiful Adirondacks Saint Regis Canoe Area. The program will have some adjustments, but very similar, including:
Basecamp operations from Camp Massawepie Scout Reservation near Tupper Lake, NY
A full day of on-water and in-camp training
A tour of the Adirondack Wild Center or the Six Nations Indian Museum
5-day backcountry canoe trek expedition in the Saint Regis Canoe Area (or nearby)
Optional day hike in the High Peaks (shortens canoe trek)
All in-camp and backcountry meals
A full-trained and seasoned guide for the entire duration
Use of a complete crew gear kit with, canoe packs, kitchen and safety gear
Canoes, paddles, PFDs and required safety gear
Souvenir tee-shirt and water bottle
A life-time of memories and skills!
COVID-19 Accommodations
Birchbark Expeditions will be complying with all NYS COVID-19 regulations, including sanitation, mask wearing, social distancing, and group sizes. We'll be sure to communicate any regulation changes that will negatively impact the program as we work our way through this difficult year.
Special COVID-19 Cancellation Terms:
If GNFC is forced to cancel due to COVID, crews will have the choice of 100% refund or transferred to the following year
If the crew cancels due to COVID:
before July 1st - 100% refund or transferred to the following year if canceled
July 1st or later - 50% refund or 100% transferred to the following year
The border may be closed, but we'll paddle on!
---
Algonquin 7-Day Adventure (Returning in 2022)
Overview | Program | Pricing | Registration | Resources |Staff | FAQ | Sponsors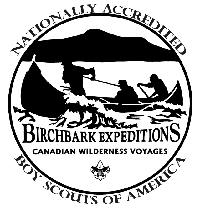 Birchbark Expeditions is a Nationally Accredited week-long, fully guided high adventure canoe experience in Algonquin Provincial Park, steeped in the rich Age of Exploration history of Upper Canada. Operated by volunteers from GNFC, the program is open to Scouts BSA and Venture Scouts at least 13 years old, holding the rank of at least First Class and a "swimmer". Crews generally consist of six youth, two adults, plus a program guide - making nine total. Expeditions take place in Algonquin Provincial Park and offers world-class canoe tripping among the thousands of lakes and unspoiled wilderness.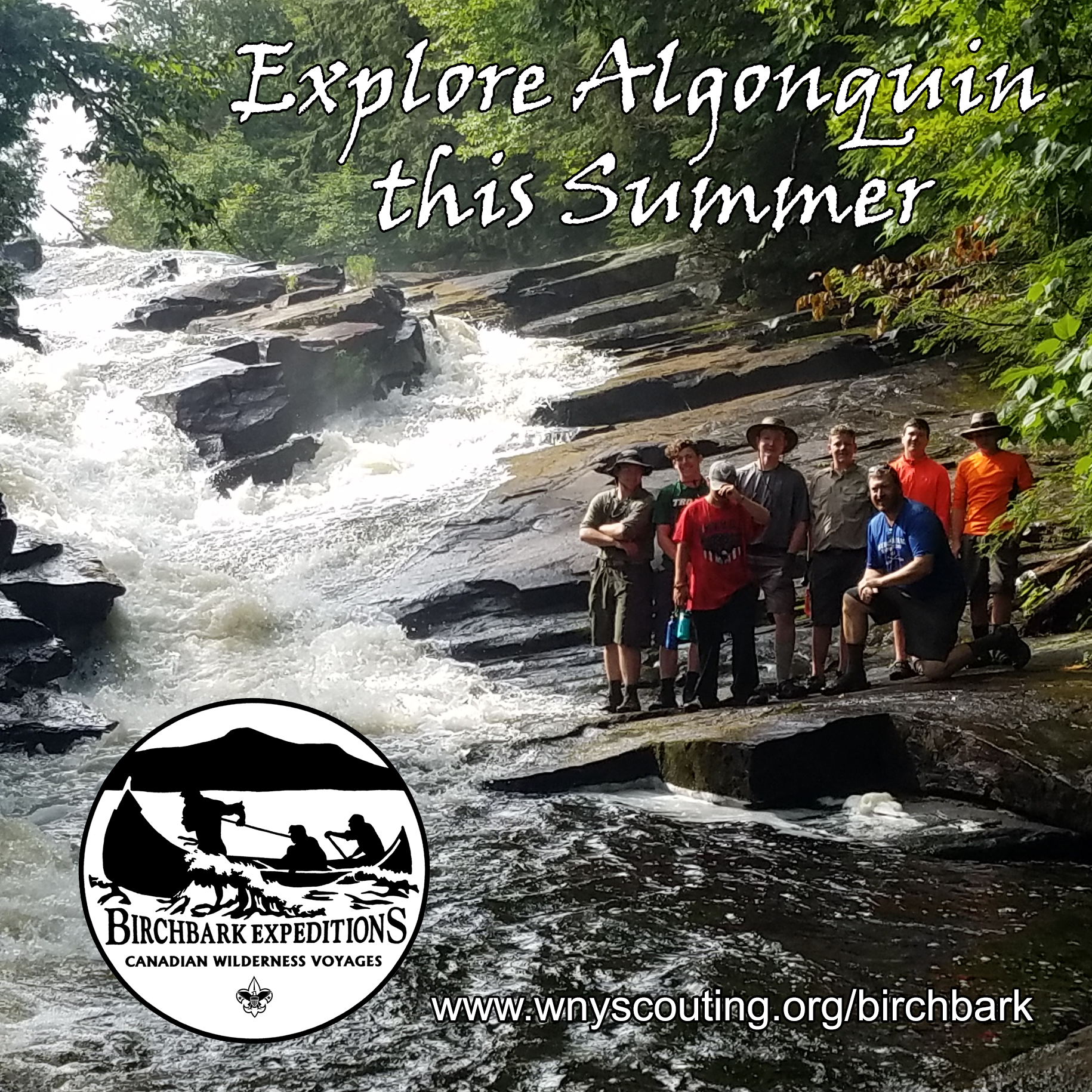 Troop 483 Takes a Break at Penn Lake Falls
Expeditions start on Saturday with an early drive from the Buffalo/Niagara area to Midland, Ont. for a visit to St. Marie among the Huron and Wye Marsh Nature Center. Here crews will meet their highly-trained Guide for the duration of our trip and learn about the early French explorers that carved a living out of the wilderness alongside the Native Americans. Crews overnight at Wye Marsh in cabins or their own tents. On Sunday, crews move on further north into Algonquin Provincial Park to base camp where they will organize equipment, practice some water rescue techniques and get rested for an early launch on Monday morning. Crews are provisioned with all necessary back country food and crew equipment, including: canoes, paddles, PFDs, tents and cooking equipment. Each participant must bring some basic high-adventure personal equipment.
Monday through Friday have crews following their custom pre-planned itinerary through the pristine lakes and forests of the Algonquin interior, enjoying the incredible views, wildlife and camaraderie.
Crews return to base camp on Friday afternoon, clean up their crew gear, pick up some souvenirs and visit some of the incredible museums and other program offered by Algonquin Provincial Park. Crews depart early Saturday morning, driving back to the Buffalo/Niagara area.
Crews from outside the Buffalo/Niagara area are encouraged to add a visit to Niagara Falls while in the area, with over-night facilities made available at Camp Stonehaven in Niagara County.
"Definitely a good value considering you guys handled the training, all the logistics for sites, canoes, tours, meals, etc,and the communication up to, during, and after the trip has been excellent."
- Carl Chudzinski, Scoutmaster of Troop 456
"This is an excellent council-run BSA High Adventure program ... at a fantastic price point."
- Scott Oeth, Bull Moose Patrol, Maine Guide and Scouting Volunteer
"I learned a lot from these folks. The skill level was outstanding!"
- Ben Shiner, Assistant Scoutmaster, Troop 4015
"Had a great time and learned a lot of new techniques."
- Eric Quinn, Assistant Scoutmaster, Troop 4015
Program
In addition to the standard expedition outlined above, Birchbark Expeditions also offers optional enhanced program elements, including:
Canoeing Merit Badge
Paddle Craft Safety Certification
BSA Kodiak Leadership Training Treks
St. George Religious Medal Treks
Far North River Treks into Georgian Bay
Leave No Trace
---
Pricing
The fees for the standard week-long program are as follows: $450/person for crews of 7 or 8 or $475/person for crews of 5 or 6 To secure a reservation, a non-refundable deposit of $400 is required per crew at the time of reservation.
Make your reservation and submit a deposit before January 1st for a $25/person early bird discount!
---
Registration
Current availability and bookings for the upcoming season are as follows:
SW=Seneca Waterways Council
IT=Iroquois Trails Council
MD=Maryland, Baltimore Council
LA=Louisiana, Norwella Council
CT = CT Rivers Council
Don't delay, book your adventure today!
Questions? Drop us a note at birchbark@wnyscouting.org