Scouting Reopening Information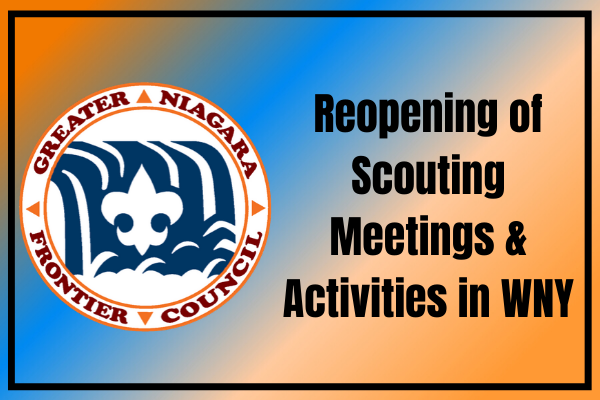 Page Current as of 10.19.2020
The Reopening of In-person Scouting Meetings and Activities!!!
The Western New York Region entered Phase #4 the week of June 28th. Our local Scouting units began to resume activities and meetings.
With the resumption of activities, the Council Risk Management Committee working with state and local health officials, safety professionals, and the medical community to develop detailed Guidance on the Reopening of In-person Scouting Meetings and Activities. This resource is intended to help units plan for and hold safe meetings and activities in the current environment.
Our 3 camp facilities opened July 10, 2020 for day activities and over-night camping! At this time the requirements set by the State only allow for over-night family camping. Unit camping is not allowed at this time. Reservations will be required for all activities at our camps, both day activities and over-night camping. We will continue to work with the State and our local health departments and update our policies accordingly.
Additionally, the Council has developed a Infographic to help you decide if an event or activity you are thinking of doing is approved at this time. This document includes links to several other documents and websites such as the CDC and New York State Department of Health that provide additional guidance and information.
Please review this information with all of your leaders, parents, and Scouts BEFORE resuming any in-person meetings and activities and use it for your planning efforts. It will help us ensure the safety of our Scouts, leaders, Scouting families, and the entire community.
On behalf of the entire Greater Niagara Frontier Council, thank you for everything you have done to keep on Scouting during the unprecedented times we have faced this year. The determination, resourcefulness, service, and sense of adventure you have all shown during the Covid-19 pandemic has been awe-inspiring.
BSA, State and CDC Guidelines for Reference:
GNFC Letter on State Restrictions on Unit Camping 10.19.20 | Click
GNFC Reopening Guidance | Click
GNFC Camping Reopening Guidance | Click
GNFC Unit Meeting & Activity Infographic | Click

COVID-19 Screening Form | Click
National BSA Restart Checklist | Click
Social Distancing | Click
Proper Use of Masks | Click
NYS Guidance for Childcare and Day Camps | Click
NYS Low-Risk Indoor Arts and Entertainment | Click
NYS Low-Risk Outdoor Arts and Entertainment | Click