Niagara Frontier Trekkers
Backpacking Assistance Program
"One day's exposure to mountains is better than a cartload of books." -John Muir
The Niagara Frontier Trekkers are a team of scouters interested in the advancement of backpacking and backpacking skills to Boy Scouts and Venturers. In doing this, we wish to promote a love of the wild, and an appreciation of the skills necessary to succeed in the outdoors. Our guides are all Backpacking Merit Badge Councelors, and have the necessary training to take your Scout, Troop, or Crew into the woods for a backpacking excursion.
Our mission is to provide asssistance to individuals or units that have never backpacked, either due to size, inexperience, or adequate finances to get started. Our activities include teaching in a classroom experience, via University of Scouting, an annual Hands-on Round Robin "Learning Day", and shakedown hikes so that individuals can get the practical experience in the field.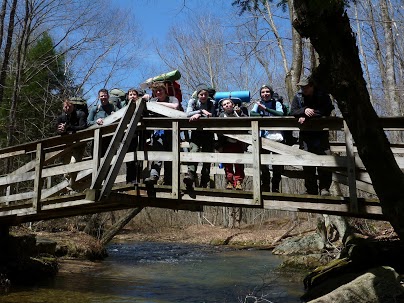 Our guides are all BSA volunteers and Merit Badge Counselors with backpacking experience, are patient, and enjoy working with scout-aged groups. All of our leaders are minimally trained in:
Youth Protection
Leave No Trace
Hazardous Weather
CPR/Wilderness First Aid
You'll find our team at the annual University of Scouting, and in addition we have several events planned for the year:
We're doing two shakedown hikes in 2014 - one Provo style in July, allowing individuals to register and attend. The other will be Patrol style, inviting 3 or 4 small groups of up to 8 Scouts and 2 adults to learn to trek together. In each of these activities, we'll be hands-on, using the actual gear that might be used on an actual backpacking excursion, and learning the routines involved in a multi-day activity.
The Trekkers do have equipment available to be used by participants in the activity, if needed; see the list of equipment below to understand what's available and what you might need to supply.
Guided Treks
The average trek agenda will start with one or two meetings with you to explain the program to your scous, plan your trek including logistics, duration, and destination. Scounts and scouters medical forms will be reviewed. We will have a detailed list of hikes from 3 to 5 days of varying difficulty within a reasonable distance from Buffalo.
For a unit that wants to have the full experience, we can provide a fully guided backpacking experience.
An overnight shakedown trip to Scouthaven or Schoellkopf will be used to familiarize everyone with necessary skills: equipment use, common sense rules of trekking, cooking and stove operation, water purification and sanitation, and campsite safety. Leave No Trace skills will be reviewed. Weight would be added to packs to simulate a 3 to 5 day trek.
Actual 3 to 5 day trek at the destination of your choice will complete your adventure. Niagara Frontier Trekkers patches will be awareded upon completion. Not all groups would need a guide onthis final trek.
Equipment
Each crew would have the following equipment for up to 10 people (8 youth in a patrol and 2 adult leaders):
Eureka 2-man backpacking tents
Dining fly, bear bag and line
Backpacks
Backpacking stoves and Kelly KettlesTM
Kitchen kit with pots, utensils, and cleanup supplies
Selection of backpacking meals
Water filtration equipment
Details
The cost of the guided program is $15/day/individual, and "Camperships" are available. Minimum scouter age will be 13 and up. Crew size will be limited to 10, including 2 adult leaders and the guide.
Resources
Start learning more by reaching out to our sponsor at Council:
James Battaglia jim.battaglia@scouting.org
Or contact one of our chairs:
Jonathan Coupal jonathan@coupal.us
David Bliss ds227bliss@roadrunner.com
David Sepulveda sepulved@buffalo.edu
3-Season Personal Gear List
Download the list here
Learn about possible options for local hikes that we have done or are familiar with:
Regional Trails
We teach the BSA Trek Safely Program:
Learn More about Trek Safely