Niagara Frontier Scout Shop
Your place to shop for Scouting needs
Visit
2860 Genesee Street
Buffalo, NY 14225

Call
Phone (716) 891-1689
Fax (716) 891-1910
Hours
Monday, Wednesday, Thursday and Friday 9:00 AM - 6:00 PM
Tuesday 9:00 AM – 7:30 PM; Saturday 9:30 AM – 3:00 PM
We're now on Facebook. Search Niagara Frontier Scout Shop or click on the link below and like our page to stay up to date with every sale and event happening here at the Store!!!

---
Get Ready for Camp 2016!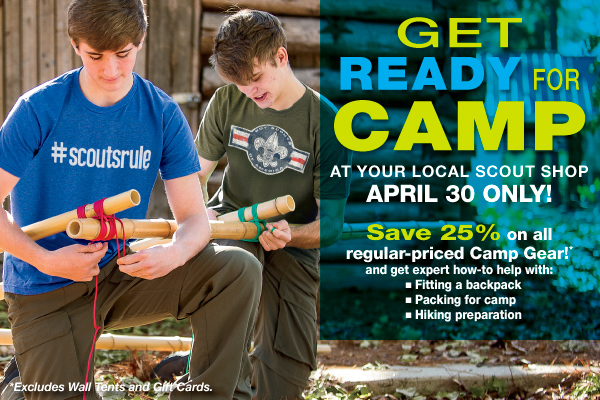 See You at the Scout Shop on April 30 for Camp Essentials and 25% Off All Regular-Priced Camp Gear!
Summer Campers: You won't want to miss this day full of Scouting know-how, fellowship, and fun! Because if you haven't already heard, GET READY FOR CAMP DAY at your local participating Scout Shop is the awesome way to prep for summer camp.
So grab your Scouting family and friends, and be there to:
? Take advantage of exclusive 25% savings on all regular-priced camp gear** during this in-store event
? Explore the ultimate selection of authentic BSA® camp gear
? Learn how to expertly fit a backpack
? Pick up invaluable info on how to pack and prepare for camp
And don't forget to print out your Free Summer Camp Packing List to bring with you for the event! Click here to find the event time for the location nearest you.
**25% savings offer is only available for retail purchases on camp gear made in participating Scout Shops during the day of the event. Excludes Wall Tents and Gift Cards. Does not apply to unit purchases, phone orders, or wholesale orders. Not valid on previous purchases or orders; may not be combined with any other offer or discount. Selection varies by location. Discount is applied at time of purchase. Savings do not apply to shipping, handling, or taxes.
Camping Clearance Now!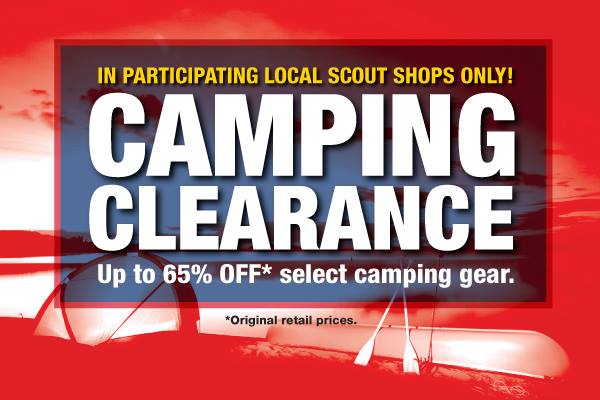 Up to 65% off original prices on a great variety of camping gear. We have tents, sleeping bags, backpacks, hydration packs, headlamps, flashlights, and more.
Hurry in to get the best selection!
Spring on in for our New Apparel!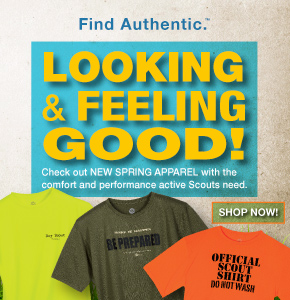 We have new apparel to fit youth and adults for all of their Scouting needs.
Check your mailbox for our latest catalog!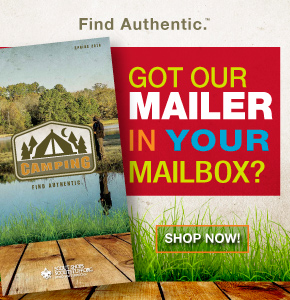 Watch your mailbox for our latest mailer, showing off all of our latest gear, crafts, and apparel!
---

Use this link to contact Brian:
---
Attention Scout Units - Important Tax Information:

In order for a purchase at the Scout Shop to be considered tax exempt, it must be purchased by either:
Cash
Unit Check
Unit Debit Card
Unit Gift Card
We can no longer accept personal credit cards or personal checks for Tax Exempt purchases per New York State Tax Law.
We apologize for the inconvenience.
Check Information
Because we are a National Scout Shop, please make any checks (unit or personal) payable to "BSA", rather than to the council. Our bank will not accept checks made out to the council.
Gift Cards
Did you know the Scout Shop has gift cards? They are available in any amount and are a perfect choice when you don't know what to get your favorite Scout or Scouter. They are redeemable at any National Scout Shop.
Last Updated - 04/27/2016 BSR