Philmont 2014
An Adventure to Remember - Now a Memory
Saturday July 19th to Saturday August 2nd 2014
Philmont Scout Ranch - Cimarron, NM 87714
Two weeks of high adventure, backwoods hiking and camping, combining the philosophies of the Boy Scouts of America, the grandeur of the Rocky Mountains and the mystique of the Old West. An adventure to remember for the rest of your life.
Thank you to all who helped create a great experience for those who trekked. We all enjoyed our time there. We even had two bears visit us during our stay!
Here's some of what Philmont has to offer.
Wait a moment or two for the interactive image to load.
Each small picture contains links to more about Philmont!
GNFC's Philmont 2014 Resources
Read Army's Philmont Phlyer for complete details and monthly updates:
For more information on what Philmont is and what it has to offer, please visit
the official Philmont web page >

Last Updated - 8/12/14 - JRC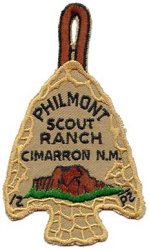 Philmont Key Dates & Deadlines

Have questions/need information?
Contact: Army Leonetti
(716) 891-4073 or (716) 480-5567
army.leonetti@scouting.org