MyScouting Help
Having trouble working with MyScouting.org? Follow these instructions to get help from BSA national tech support:
E-mail myscouting@netbsa.org with your logon e-mail address and contact information.
Please include your Council name (Greater Niagara Frontier Council) and city (Buffalo, NY).
Representatives are available between 7 am and 7 pm (CT) Monday through Friday.
You should receive a response by the end of the next business day following your inquiry.
Optionally, you may call 1 (972) 580-2267. (This is a toll call).
Additional Help
Need help setting up a MyScouting ID? Follow these instructions >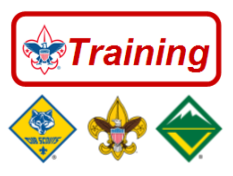 Upcoming Training Activities & Events
The training sessions listed below are local (L) sessions.
View or print a list of all GNFC Training Activiies and Events >
Information for Experienced Leaders
GNFC Training Contacts
GNFC Training Chairman
Darlene Kihlberg - (716) 946-3557
dmkihlberg@gmail.com
GNFC Training Staff Advisor
Stuart Schnettler - (716) 512-6215
Stuart.Schnettler@scouting.org