Venturing is a youth development program of the Boy Scouts of America for young men and women who are 13 and have completed the eighth grade or 14 through 20 years of age.
Venturing's purpose is to provide positive experiences to help young people mature and to prepare them to become responsible and caring adults.
Venturing is based on a unique and dynamic relationship between youth, adult leaders, and organizations in their communities. Local community organizations establish a Venturing crew by matching their people and program resources to the interests of young people in the community. The result is a program of exciting and meaningful activities that helps youth pursue their special interests, grow, develop leadership skills, and become good citizens.
The Venturing Oath
As a Venturer, I promise to do my duty to God and help strengthen America, to help others, and to seek truth, fairness, and adventure in our world.
The Venturing Code
As a Venturer, I believe that America's strength lies in our trust in God and in the courage, strength, and traditions of our people.
I will, therefore, be faithful in my religious duties and will maintain a personal sense of honor in my own life.
I will treasure my American heritage and will do all I can to preserve and enrich it.
I will recognize the dignity and worth of all humanity and will use fair play and goodwill in my daily life.
I will acquire the Venturing attitude that seeks truth in all things and adventure on the frontiers of our changing world.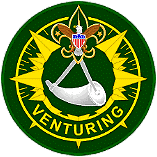 Venturing Corner
2012 Annual Venturing Awards
Venturing Leadership Award (Adult)
Paul Kendzierski - Council Commissioner
Russell Etzenhouser - Council Executive
John Schmidt - Council President
2012 Venturing Leader of the Year (as selected by the Council Commissioner's Cabinet)
Cedric Holloway
Distinguished Youth of the Year (as selected by the Council Commissioner's Cabinet)
Anne Taylor - Crew 93 and Area 3 VOA President

Venturing Officer's Association
Venturing Officer's Association helps council Venturing advisors and professionals to get the prospective of the youth in the council. It allows the youth to develop leadership skills, and gives council professionals a resource to build the council's Venturing program. All inquires should be made to Paul Kendzierski paul.kendzierski@gmail.com
VENTURING COMMITTEE CALENDAR
Powder Horn
Powder Horn
is a training opportunity designed to expose the Venturing or Scout leader to activities and resources necessary to operate a successful High Adventure program.
August 15 - 18, Powder Horn Course - SSR. Click here to register>Powder Horn 2014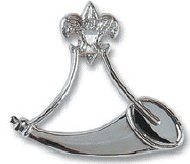 POWDER HORN 2012. September 7-10, SSR. Register online.
CREW WEB PAGES
---