Cub Scout Day Camp 2015
Trail Ride to El Rancho Grande
Come with us and...
Be sworn in as a Deputy
Live & play like boys of the Old West
Build a Fort
Work as an assayer and in the General Store
Take part in our Red River Boat races
And much, much more!
It'll be great fun, so com'on along and join us!
Adventure
Games
Physical excercise
Learning through fun activities
Bow & Arrow target shooting
Sling Shot target shooting
Special WEBELOS activities
Ultimate Frizbee
Marbles
Fun wood projects and other projects
Opportunities for advancement
General Store
Memories to treasure forever
A special campfire
A family chuckwagon supper (all family members are encouraged to take part)
Fun and much, much more!!!
Parents: Interested in serving as part of our Camp Staff as an Activity Director or Den Leader? It requires a full week commitment. Indicate your interest on the reservation forms and we'll be in touch.
Stay Up-To-Date With Our Monthly Newsletter
Medical form required
Parts A & B of the Boy Scout Annual Health and Medical record must be submitted for all attendees. Please complete this form and email it or deliver it to Army Leonetti at the Council Service Center as soon as possible after you submit your reservations.
About Cub Scout Day Camp
GNFC Cub Scout Day Camp is an accredited, Erie and Niagara County Health Department and Boy Scouts of America approved youth camp.
Our Camp Directors and Program Directors have attended our National Day Camp School.
Camp Director:
GNFC Staff Advisor:
Shooting Sports directors are approved by the counties in which we operate and abide by New York State laws and National Standards of the Boy Scouts of America.
For More Information
Send Army your email address and he'll be sure to send you the monthly edition of our "Niagara Frontier Telegraph." It gives you the latest information about Day Camp and it's fun to read.
Last Updated - 3/22/16 - SJ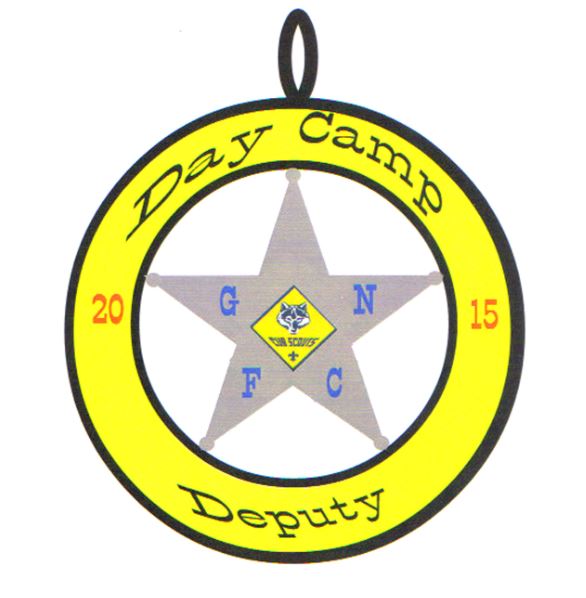 Cost: 5 Day Session - $100.00 per Cub Scout
3 Day Session - $ 60.00 per Cub Scout

Six Convenient Locations -
Select the best site and register ONLINE!

Session #1: July 6-8, 2015; 9 am-4 pm daily
Lake Erie Social Club
3200 South Park Avenue, Lackawanna, NY 14218
Session #1 ONLINE Registration here >

Session #2: July 9-11, 2015; 9 am-4pm daily
Trinity Episcopol Church
261 E. Main St., Hamburg, NY 14075
Session #2 ONLINE Registration here >
Session #3: July 13-17, 2015; 5 pm-9 pm daily
Council Service Center
2860 Genesee St., Cheektowaga, NY 14225
Session #3 ONLINE Registration here >
Session #4: July 20-22, 2015; 9 am-4 pm daily
St. Martin De Porres
555 North Hampton St., Buffalo, NY 14208
Session #4 ONLINE Registration here >
Session #5: July 23-25, 2015; 9 am-4 pm daily
1st Calvary Baptist Church
467 William St., Buffalo, NY 14206
Session #5 ONLINE Registration here >
Session #6: July 27-31, 2015; 9 am-4 pm daily
Camp Stonehaven
4670 Albright, Ransomville, NY 14131
Session #6 ONLINE Registration here >
Or register at the Council Service Center
Print a copy of the paper reservation form >

Payment and Refund Details
Payment is due with each reservation.


Each paid youth reservation includes a T-Shirt
Additional youth and adult T-Shirts available


All refunds requests must be submitted to the Campaign Department with a "Refund Request Form."


Refunds are subject to a $25 cancellation fee. Refunds
considered ONLY if submitted before August 28th, 2015.
Hints for a Great Camp
Bring a buddy and use the "Buddy System"
Wear your uniform every day
Be on time
Bring everything on the camp list
Stay with your Den
Obey all instructions
Listen to you Den Leader and Den Chief
Get lots of rest at night
Remind Mom or Dad to bring a lawn chair when visiting us at camp
Smile and be pleasant to every one
Mark all your stuff
Do your best
Have fun!