DON'T MISS THIS!
For the first time VENTURE CREWS will be included in the 2013 Jamboree.
Register now, don't wait space is limited.
There's only one first time - be one of the first VENTURERS to experience the SUMMIT of adventure!
The 2013 Jamboree will also be the first to break-in BSA's newest high adventure camp - The SUMMIT Bechtel Reserve - in West Virginia. Be there to help.
The SUMMIT is more than just a place for Scouts; it's Scouting's Next Step. This is an adventure center for the millions of youth and adults involved in the Boy Scouts of America.
It's the beginning of the next century of Scouting. With incredible facilities and intense outdoor programs, The SUMMIT is a place that takes scouts to the limits of what they think they can do, and then goes further.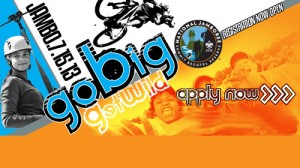 (click the image above to apply now)
July 15 - July 24, 2013; Summit Bechtel Reserve, West Virginia
We're talking seriously high adventure, people...
Whitewater rafting
Zip-lining
Rappelling
Mountain biking
Hiking
and more
... with 50,000 of your closest friends at the Boy Scout's brand new Summit Bechtel Reserve in the wilds of West Virginia.
Start planning now to be part of history at the very first jamboree at The Summit.
Registration: Now Open - Click Here to Apply Now >
GNFC Jamboree Fee is $1,500 per person
Application Instructions > (PDF)
More Information
Download the GNFC Jamboree 2013 Payment Book
Summary of GNFC Jamboree 2013 Contingent Meetings
Keep up to date with GNFC Jamboree on Facebook
Check out more information about the Summit and the 2013 National Jamboree at https://summit.scouting.org >
For Jamboree Scoutmaster and Assistants Qualifications please go to:
https://summit.scouting.org/en/Jamboree2013/Pages/Scoutmaster-Qualifications.aspx >

Be sure to review the mandatory terms for participation for youth and adults: https://summit.scouting.org/en/Jamboree2013/Pages/Mandatory-Terms---Youth-and-Adult-Leader.aspx >
Jamboree Contacts
| | | | |
| --- | --- | --- | --- |
| Scoutmaster | Jim Heinrich | 866-1942 | Jeheinrich@aol.com |
| 1st Assistant | Ginny Conway | 632-0884 | ginnyconway@verizon.net |
| 2nd Assistant | Jamie Prowse | 319-8414 | jjprowse@gmail.com |
| | | | |
| --- | --- | --- | --- |
| Scoutmaster | Mark Oetinger | 689-4571 | markoetinger@verizon.net |
| 1st Assistant | Robert Reeves | 695-5317 | ninjarob3000@yahoo.com |
| 2nd Assistant | Jason Crosby | 213-6213 | jscrosby@gmail.com |
| | | | |
| --- | --- | --- | --- |
| Council staff advisor | Pat Covell | 512-6213 | patrick.covell@scouting.org |
Stay Connected
youtube.com/user/TheBechtelSummit